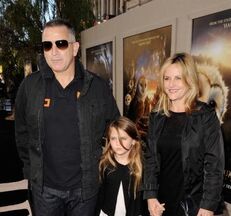 Anthony LaPaglia is an Australian actor, born in Adelaide, South Australia, 1959 (age 56). He has played roles in many movies, television shows and theatrical performances, including the TV series Without a Trace (which he won a Golden Globe Award for) and the show Frasier (which he won a Primetime Emmy Award for). He played the voice of Twilight in Legend of the Guardians: The Owls of Ga'hoole.
Trivia
He also voiced the Boss Skua from Happy Feet, which was made by the same studio as Legend of the Guardians, Animal Logic
LaPaglia has been using an American accent as opposed to an Australian accent since the 80's, which he originally did to help him get jobs acting after moving to the US
Ad blocker interference detected!
Wikia is a free-to-use site that makes money from advertising. We have a modified experience for viewers using ad blockers

Wikia is not accessible if you've made further modifications. Remove the custom ad blocker rule(s) and the page will load as expected.