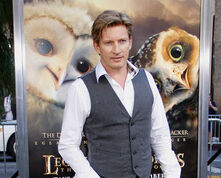 David Wenham (born 21 September 1965) is an Australian actor who has appeared in many movies, TV shows and theatre productions. He is known in Hollywood for his roles as Faramir in The Lord of the Rings film trilogy, Carl in Van Helsing, Dilios in 300 and its sequel 300: Rise of an Empire and Neil Fletcher in Australia. He is also known in his native Australia for his role as diver Dan Della Bosca in SeaChange.
He voiced Digger in Legend of the Guardians: The Owls of Ga'hoole.
Trivia
He had a main role in 300, also directed by Zack Snyder.
Gallery
Interviews
Interviews regarding Wenham's role in
Legend of the Guardians
.
Ad blocker interference detected!
Wikia is a free-to-use site that makes money from advertising. We have a modified experience for viewers using ad blockers

Wikia is not accessible if you've made further modifications. Remove the custom ad blocker rule(s) and the page will load as expected.