This article is a stub. You can help the Guardians of Ga'Hoole Wiki by expanding it.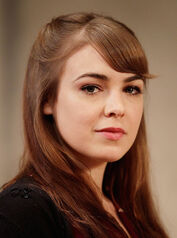 Emily Barclay (born 24 October 1984, Plymouth, UK) is an English-born, New Zealand AFI award winning actress. She's acted all her life, having roles in plays and various films and TV shows.
She voiced Gylfie in Legend of the Guardians: The Owls of Ga'hoole.
Trivia
Barclay is a vegan and an avid animal rights activist. She is an ambassador for Voiceless, an Australian animal protection charity.
Her and Geoffrey Rush (the voice of Ezylryb) both had roles in a stage production of The Seagull following the release of Legend of the Guardians.
Ad blocker interference detected!
Wikia is a free-to-use site that makes money from advertising. We have a modified experience for viewers using ad blockers

Wikia is not accessible if you've made further modifications. Remove the custom ad blocker rule(s) and the page will load as expected.