This article is a stub. You can help the Guardians of Ga'Hoole Wiki by expanding it.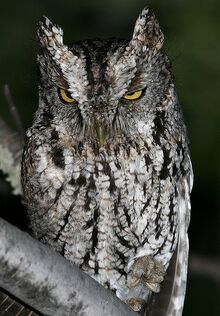 This article is about the Whiskered Screech Owl. For other characters named Gemma, see Gemma (Disambiguation) 
Gemma is a female Whiskered Screech who argues to the Parliament that the ember is too vulnerable while Coryn is away. Inevitably, she then creates the GGE (Guardians of the Guardians of the Ember) without the Parliament's full agreement. She and two other owls, Elyan (a Great Gray) and Yeena (a Barn Owl), have their Elevation ceremony then to become the leaders of the GGE. Nearer to the end, when the Band and Coryn come back, the trio is sent to the Glauxian Brothers' and Sisters' retreats. 
Trivia
There are two Gemmas in the series, the other being the mate of Martin.
Ad blocker interference detected!
Wikia is a free-to-use site that makes money from advertising. We have a modified experience for viewers using ad blockers

Wikia is not accessible if you've made further modifications. Remove the custom ad blocker rule(s) and the page will load as expected.