Liam MacDuncan
Talk

0
494pages on
this wiki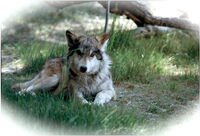 Liam MacDuncan is a gray male wolf, the last chieftain of the MacDuncan clan. He is also the Prophet.
Coming Soon
He is not seen nor mentioned, but his mother, Cathmor MacDuncan, died sometime in the book causing him to go in to depression.
Liam MacDuncan is shaken by his mother's death and the clan goes into disorder. He is terrified by Faolan and Edme when Finbar sends them, and is mentioned to disapear for long periods of time. He pretends to be a prophet and begins a chain of dancing and wolves dying of Starvation. He steals an owl battle mask to conceal his identity, specifically the owl Gwyndor. When Faolan, Edme, The Sark and Gwynneth catch him, Gwynneth is furious. He confesses what he did, and they try to stop the dancing, but it was too late. They go to one group, who is so confused and dazed that they do not realize it was Liam MacDuncan. A thin little pup tries to talk to his parents, but they turn away from him and Faolan takes him to the Watch. Liam goes with The Sark and Gwynneth to replace the battle mask.
He is at the tree where Gwyndor's hero mask resided when the earthquake hit and he was knocked sideways and died.