Online games based on Guardians of Ga'hoole that you can play!
The Rise of a Legend Game
Help Lyze, who becomes Soren's mentor, navigate through the forest of Ga'Hoole:
http://www.scolastic.com/gahoole/legend/
NOTE: This game is now defunct
Barn Owl Creator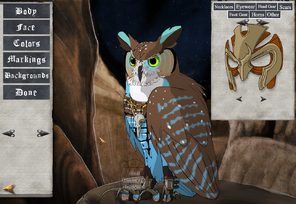 Create your own Barn Owl with custom colors, face shapes, beaks, markings, Guardian armor and battle claws:
http://www.deviantart.com/art/Barn-Owl-Creator-315501069
Owl Creator
A newer version of the Barn Owl Creator, now with more owl species, selection, armor and accessories:
Ad blocker interference detected!
Wikia is a free-to-use site that makes money from advertising. We have a modified experience for viewers using ad blockers

Wikia is not accessible if you've made further modifications. Remove the custom ad blocker rule(s) and the page will load as expected.