The Band
Talk

0
491pages on
this wiki
The band is a group of owls made up of
Soren
,
Gylfie
,
Twilight
, and
Digger
. They are the four journeyed to Great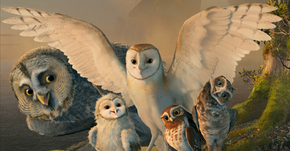 Ga'Hoole Tree, where they all be came Guardians of Ga'Hoole. All of The Band, with the additions of
Otulissa
,
Ruby
, Soren's sister
Eglantine
, and
Martin
, make up the
Chaw of Chaws
.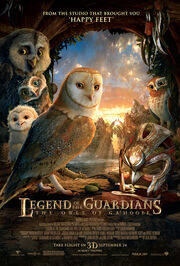 Soren and Gylfie met at St. Aegolius Academy for Orphaned Owls, or St. Aggie's, and became best friends. With the help of Grimble, an imperfectly moon-blinked Boreal Owl, they learned how to fly. When they escaped St. Aggie's, they went to the Kingdom of Ambala and met Twilight, a lone Great Gray. The three set off towards to find out if Soren and Gylfie's family were alive. While in the desert of Kuneer, Gylfie's home, they met Digger, a Burrowing Owl. The four stuck together and journeyed to the Great Ga'Hoole Tree.
Soren: The leader of the band, a male barn owl. He is double-chawed as a collier and weather interpreter.
Gylfie: The navigator of the band, a female elf owl, the smallest owl species. She is said to be the best navigator since Strix Struma. She is also Soren's best friend, and is considered the smartest.
Twilight: The warrior of the band and the strongest, a male great gray owl. He had been orphaned just before hatching and managed to survive and home-school himself, in what he called "the Orphan School of Tough Learning."
Digger: The tracker of the band, a male burrowing owl. His family had been killed by a St. Aggie's patrol in the desert of Kuneer. He has been said to be the best tracker of the tracking chaw. He is the most philsophical of the band.