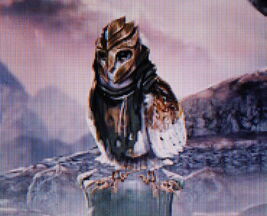 The Glauxian Brothers are a group of male, devoted owls who spends time in meditation and silence. They are peaceful and shun violence and war. Also, they specialize in healing, poetry, and bookmaking/book repair. Some of these owls are turnfeathers, banished, or on longer wanted that have turned to the ways of repentance. The Glauxian Brothers are found at the Northern Kingdoms since the time of Hoole.
There is a similar group called the Glauxian Sisters. They are female owls with the same beliefs as the Glauxian Brothers.
Beliefs of Hagsfiends
Even though the Glauxian Brothers and Sisters have same practices and beliefs, their views of Hagsfiends differ from each other. The Glauxian Brothers believed hagsfiends came into the world because owlkind has displeased Glaux. The Glauxian Sisters don't actually believe these demons existed at all.
History
Coming Soon
Coming Soon
Coming Soon
Coming Soon
Known Glauxian Brothers
Trivia
Theo, the first blacksmith tried joining the Glauxian Brothers, as he is a gizzard resister; but they say he wasn't quite ready.
Ad blocker interference detected!
Wikia is a free-to-use site that makes money from advertising. We have a modified experience for viewers using ad blockers

Wikia is not accessible if you've made further modifications. Remove the custom ad blocker rule(s) and the page will load as expected.