Unnamed Australian Masked Owl
Talk

0
491pages on
this wiki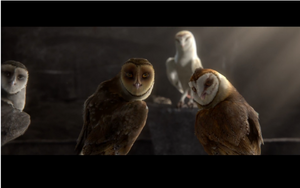 The Unnamed Masked Owl is a minor character from the movie Legend of the Guardians: The Owls of Ga'Hoole. He is Kludd's rival. He has no spoken lines, but he makes a few screeching sounds.
The masked owl serves as Kludd's rival. When they are training to be soldiers, the masked owl attempts to fly higher than Kludd, but Kludd is better.
Later in another test, a bird is let loose and the owls must catch it. The masked owl is hit by Kludd and he falls. He is seen in the background getting up in the next few shots.
He may be Vaygar, a masked owl from the books, only with a different role than this character.