Hiya guys, and welcome to my userpage, where you discover a DICTIONARY about me (that is, a dictionary with most of the pages ripped out, since I'm new on this wiki). I am an overall friendly person (I hope) and will help out i any way I can. :D
I'm kind of not on here anymore. byyyeeeee
Mai character
Edit
NAME: Elezya
GENDER: Female
OWL SPECIES: Masked Owl
OWL KINGDOM/BIRTHPLACE: The Forest Kingdom of Ambala
CURRENT HOME: The Great Ga'Hoole Tree
MOTHER: Quiniria
FATHER: Nevis
BROTHER: Aucknel
SISTERS: Bliffy, Kalia
UNCLE: Zentarsh
MATE: Dogen
SON: Miqun
DAUGHTERS: Marella, Heraia
RELATIONSHIPS
Edit
FRIENDS: Otulissa, Primrose, Soren, Twilight, Digger, Gylfie
MATE: Dogen
CHICKS: Miqun, Heraia, Marella
GREAT GA'HOOLE TREE CHAW: Search-and-rescue
GREAT GA'HOOLIAN GUARDIAN STATUS: Yes
REQUESTED EXTRA PART-TIME JOB: The first Great Ga'Hoole Tree alchemist with her own alchemy room (a large, cleaned-out spare hollow quite high up in the Great Tree)
SPECIAL RANK: After fighting bravely alongside the rest of the Ga'Hoolian knights in 2 great battles, the King and Queen of Hoole (Boron and Barran) named her Second-In-Command, and asked if she accepted. At first Elezya was shocked by this and turned to her friends in the room (Twilight, Digger, Soren, Gylfie, Otulissa, Primrose), her mate (Dogen) and her chicks (Marella, Miqun and Heraia) for support, and they all nodded silently in unison. Gifted with new courage, Elezya turned back to the two great Snowy Owls and said, "I accept." The rest of the owls in the hollow (Boron, Barran, Ezylryb, Elvan, Bubo, Martin, Ruby, Otulissa, Primrose, Soren, Twilight, Digger, Gylfie, Eglantine, Dogen, Heraia, Marella, Kalia, and Miqun) all screeched and hooted happily, and surrounded Elezya, yelling her name over and over in a loud chant and saying that she deserved her new position more than any owl.
Of course, there was a huge celebration, with boiled voles and mice, rosemary biscuits, orange cakes and cups of sweet milkberry tea, and hundreds of Ga'Hoolian owls chanting Elezya's name over and over again. It was a happy dawn for the noble owls of the Great Ga'Hoole Tree.
After that, Elezya's children had grown heaps, and she passed down her alchemy job to her daughter, Marella, named after Soren's beloved mother, and, in the Masked Owl knight's honor, an alchemy chaw was created, with Marella as the first alchemy chaw ryb. And the sign of being tapped for it was a length of fresh rosemary.
And from then on, Elezya fought in battles, received news from chaw lessons and patrols, reported to Boron and Barran, inspected every hollow in the Great Tree to see that everything was in order, and overseeing Bubo's smithing work and a few types of chaw lessons each night, including colliering/weather interpretaion, the younger search-and-rescue classes, Navigation and Hoolology to make sure every piece of information taught to the owls was correct and the lessons were overall up-to-standard.
Elezya was one of the best fliers and fighters of her time.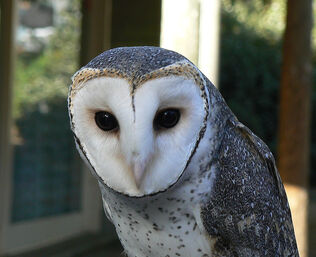 As an owlet, Elezya lived in a hollow inside an oak tree in the Forest Kingdom of Ambala. At the time, she was living with her mother and father, Quiniria and Nevis, two adult Masked Owls, and a speckled egg-Elezya's first younger sibling.
Her family's nest-maid snake, Mrs. Snerissa, had recently died, and they were yet to receive another.
Her older sisters, Bliffy and Kalia, had left the nest a few months before Elezya's hatching (Kalia had moved to a nearby tree in Ambala, then received a mate who was an incredibly thickly-spotted Snowy Owl(named Tylan), who was from the Great Ga'Hoole Tree but was captured by a band of enemy owls and escaped recently, but couldn't find the Tree or even Lake Hoolemere, so he entered Ambala searching for a mate. So Kalia went on a journey with him and lives at the Great Tree, while Bliffy, who had always been a firmly-believing, stubborn, enclosed and slightly sick-minded owl, found the canyons of St. Aegolius's Academy for Orphaned Owls, was trained there as an adult and eventually became a sleep monitor there-one of the strictest and evilest sleep monitors as well.
Elezya, as quite a young owlet, was very excited at the egg's hatching, but her parents noticed that it had quite a small egg tooth, which usually lead to delicate emotions, shy personalities, small size and depleted natural pride, but they weren't extremely worried about it, because the new chick turned out to be male, which sometimes helped support the personality side which had been injured by the omen of a small egg tooth.
Elezya and her parents were very proud of the new chick, and the little female owl loved taking captured crickets from her parents' beaks and sliding them into her brother's beak, and liked to watch the cute fluffball eat.
Soon after her brother's hatching, Elezya had her First Fur ceremony, which she was very excited about, but she could hardly keep still at the newly named Aucknel's First Meat ceremony, at which she was disappointed that she couldn't bring Aucknel the small chunk of vole flesh Quiniria had stripped from some prey she'd caught that twilight.
Aucknel grew more slowly than Elezya had, and was much smaller than his sister.
Soon, though, Aucknel could speak properly in his cute little tweet, and received meals of mice and vole meat stripped from the bones and skinned, while Elezya ate small piles of meat with the skin and fur on it.
Finally, it was the night of Elezya's First Bones ceremony, which she was extremely excited about. She yarped her first pellet, and Nevis called it "a darn fine pellet." Elezya was very proud of it, and it was the third pellet dropped into a small hole in the hollow, cleared of moss, which was the family pellet-hole-where the parents dropped each owlet's first pellet, and kept it as a valuable piece of their family history and pride.
A few nights after Elezya's First Bones ceremony, Nevis and Quiniria, who had been bad-tempered with each other lately, and hadn't hunted together for ages, told their chicks they were going hunting. Elezya and Aucknel agreed, and their parents flew off.
The nestlings, one of which (Elezya) who had begun branching recently, waited for their ma and da to come home. They waited from First Black, the two adult Masked Owls' leaving time, until midnight.
After that they became a little unnerved by their parents' unusually long absence.
And that unnerveness grew into uncertainty, which turned into worry, which became horror when it dawned and still their parents hadn't arrived home.
Elezya brought Aucknel a cricket and a mouse for herself for dinner from the small food stash their parents always left them when they went out in case their children became hungry while they were gone.
The siblings ate up, then sat down together amongst the moss and down of the family hollow and fell asleep.
When the two owlets woke up it was dusk. Elezya ordered Aucknel to stay where he was, and crept out onto a verandah sitting just outside the edge of the hollow, made from one thick branch with little twigs and leaves woven together around it, which Nevis and Quiniria had built soon after Bliffy and Kalia hatched, about a year ago now.
Elezya peered out into the forest, but couldn't see her parents. Any owls, for that matter.
Suddenly, two shadows flashed by another, empty oak tree, then slipped through the leaves of a beech. Her parents? Guessing it was, she let out a distress call-a loud, sharp tweet her da had taught her to do in case she ever got lost.
That was the first time she'd ever used her distress call, besides in lessons, and it turned out so loud and sharp she almost jumped back from her own voice. That would reach the other end of Ambala and beyond, Elezya thought. Which meant it would reach her parents. Or any other owl.
Or any other owl.
And it did reach another owl. Two, in fact. The ones that had flashed through the trees before.
And they were evil beyond compare.
For the first few seconds after her call was released, Elezya sat back to wait for her parents to return.
Very quickly, two dark shapes erupted from the trees and flew towards the nesting hollow. Elezya's heart lifted. "Ma! Da! You were away for so long!"
Screeching that was quite possibly the biggest mistake Elezya ever made-it almost cost her her life.
At first, Elezya was entirely convinced these two owls were here parents. So convinced, in fact, she called her brother over. "What?" he tweeted. "Mummy and Daddy are back!" Elezya yelled, and Aucknel twittered in triumph.
Elezya looked back at the two big owls. They'd drawn much closer in that minute she'd spoken with her brother. Now she could see both owls clearly. They were bigger than both her parents combined, and had way bigger, sharper-looking talons. Their eyes were more orangey, and they definitely weren't Masked Owls. One was brown and thickly-feathered, slightly reddish, with only a few, smudged spots and two strange tufts, one on either side of its head. The other had black wings with a gray torso, huge talons and big gray circles around its pale yellow eyes and a giant, well-rounded head. Elezya quickly identified the species in her mind: The first was a Great Horned Owl, the second a Great Gray Owl. Neither were Masked Owls. (Elezya's parents had taught her lots of different species of owls).
Elezya looked at Aucknel. Aucknel looked at Elezya. "I don't think those owls are Ma and Da," she said. "You think?!" Aucknel spat. "They're way too big, and neither look anything like Masked Owls. Oh, Elezya, what do we do? They don't look friendly. They look evil. Like the owls the Great Ga'Hoolian knights battle in the stories." "Yeah," Elezya agreed. She glanced around the hollow. "Quick-follow me. We can hide in the shadows until they go away." Without waiting for a reply, she grabbed Aucknel's scrawny wing in her beak and dragged him into the shadows at the back of the hollow. And watched.
The two owls-the Great Horned and the Great Gray-alighted onto the verandah and plodded into the hollow. They cocked their heads and listened. Elezya clasped her talon over Aucknel's mouth and stilled both of them. The evil owls gave up listening and the Great Horned, which had an ugly scar over one eye and one wingtip missing, turned to the Great Gray. "I'm sure I saw an owlet waving her wings about on the branch outside," he said in a disgusting, scary, slightly wispy voice. "Well if you didn't suddenly hoot at me about another owlet and made me look to the left, which turned out being a leaf swaying in the breeze-we could've kept an eye on it," the Great Gray said in a bossy, deep voice. "Oh, shut your beak, Onteo. That leaf looked a lot like an owlet. Skench told us to catch at least four chicks today, so I had my eyes peeled. It was an honest mistake. Anyway, I'm sure that owlet is around here somewhere. It couldn'tve jumped off the branch-we looked down at the forest floor before we landed. We've just got to search more. Wouldn't want to disappoint the Ablah General, now would we?" Onteo, the Great Gray Owl, shook his head in defeat. "Never disappoint the Ablah General." "Never disappoint the Ablah General," the Great Horned repeated his companion's line, then hooted, "Now, back to the searching." Both huge birds searched in every nook and cranny in the hollow, and more than once Elezya was worried they'd find she and her brother.
"Found something!" the Great Gray called.
He was looking into the family pellet-hole.
The Great Horned Owl wandered over. "What is it?" he asked gruffly. He was still obviously annoyed by Onteo's earlier insult on his intelligance.
"Pellets," Onteo announced. "Three of 'em. This must be one of those special pellet-holes some families keep in their nesting hollows. Two old and dry-still pickable, though-and the last almost fresh. A few weeks old, I'd guess."
"See? There is an owlet in here," the Great Horned Owl hooted triumphantly. "Yeah, whatever, Burn," Onteo said irritably. "Important thing is, the pellets. They can be picked in the pelletorium back at the orphanage when we return." He was about to pick them up in his beak when Aucknel suddenly ripped himself free of his sister's talons. "I am not letting these idiot owls steal our family pellets. I'll beat 'em up in no seconds!" Before Elezya could do anything about it, Aucknel burst out of the shadows and yelled, "Dirty villains! I'll tear your gizzards out! I'll crush your no-better-than-wet-pooper organs and eat 'em for dinner!" The two mean owls whipped around to face Aucknel. The Great Horned Owl looked at the Great Gray. "Told ya, Onteo!" he hooted. "Guess you were right for once, Burn," Onteo said. "You take the pellets, I'll take the owlet." "Agreed," Burn said, and plodded over to the pellet-hole to collect the family specimens, while Onteo clasped Aucknel in his talons. "We're finished with this nesting hollow. Let's head off to the next." Burn nodded, the pellets in his beak.
The two owls flapped their giant wings and lifted into the air, then flew out onto the verandah and left the hollow fully, one clutching the family pellets in his beak and the other carrying Aucknel, who was letting out distress call after distress call, trying to wriggle out of Onteo's talons. But each time the little owl squirmed, the Great Gray Owl tightened his grip, until it looked like Aucknel could barely breathe, let alone wriggle.
For the first time since the two big, mean owls arrived in the hollow, Elezya stepped out of the deep shadow she and her brother had been hiding in, and watched Onteo and Burn fly away, Aucknel gripped in Onteo's talons.
Thinking of nothing else to do, Elezya scrambled onto the verandah and screeched, in the loudest voice she could, "Aaaaauckneeeeeeeeeeel!" The two huge owls stopped in mid-air, almost going yeep at the sound of Elezya's voice. They turned around, wings still flapping. Onteo took a breath and was just about to open his beak to say something when there was a flash of brown, then a flash of white, then gold, then black, then brown again. More evil owls? Nope.
But they were owls. Even bigger than Onteo and Burn, and twice as nimble, these brave birds bit and scratched at the Great Horned Owl and Great Gray, cannoning into them and bowling them over in mid-air, and slashing them with razor-sharp, unusual shiny golden talons. They kept screeching "For Glaux and all who know their place! For all of the owl kingdoms! We are the saviors! We are the noble! For we save the owl world from all evil! We feed all kingdoms with our nobility! We make strong all weak! We make powerless all who abuse the frail! We are the Guardians of Ga'Hoole!" They all hooted in unison-their voices melted into one, noble chant.
Elezya's heart jumped into her throat with happiness-until something happened that killed every spark of hope within her.
The first owl-a brown and white one-bowled Onteo over. The Great Gray screeched in agony as the Guardian slashed his eye, spraying everything with blood. He was so caught up in the pain and fury that he completely forgot about his talons for a moment. He loosened them, and dropped Aucknel down, down, down, until Elezya heard his little body hit the ground with a loud thud.
Elezya opened her eyes. She glimpsed darkness all around here, then saw something standing over her. It was a face. A big white face. The face of a Barn Owl!
Elezya jumped, and pressed further into the moss. "Get away from me!" she squeaked. The Barn Owl glanced at a rosy-scaled nest-maid snake sitting next to him, then looked back at Elezya. "It's alright," he hooted softly. His calm, smooth voice was like music to the owlet's ears after Onteo and Burn. "We're not going to hurt you. You can trust us," he said truthfully. Elezya believed him, and sat up. She was sitting in a mossy nest inside a large, warm hollow. The air was heavy with silence, and there was a gap in the wall outside that sunlight streamed through. "W-where am I?" she asked in confusion. The Barn Owl chuckled gently. "You are at the Great Ga'Hoole Tree, young one. Yes, same as in the stories and legends. It's real. You are inside the Great Ga'Hoole Tree on the island at the centre of the great Lake Hoolemere." Elezya couldn't believe her ears. "Where each night brave Ga'Hoolian warriors rise to perform noble deeds?" "This is the place," the Barn Owl hooted smoothly. Wow, thought Elezya. "But why did you bring me here? What happened to Aucknel? How about my parents?" A stream of questions erupted from her beak.
"Well, firstly," said, the Barn Owl, "My name is Tevoiit, and I am a loyal Guardian at the Great Tree.
To be continued