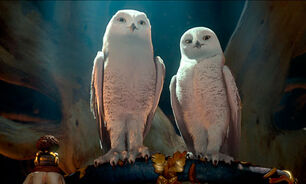 Hi my name is Kittycat79 but you can call me Kitty, Kittycat, Hazelclaw, Cloverdawn, Cherrystar, Tessia or Eka :) Nyra, Grimble, Kludd, Soren, twilight, Digger, Gylfie, Otulissa, Martin, Primrose, Ruby, Strix Struma, Boron and Barran are epic! I've read The Capture, The Journey and The Rescue and I'm currently reading The Siege.
Side-characters
Edit
These are my other characters I've made up whom aren't particularly important.
Myzia, Grass Masked Owl, female, St. Aggie's/Pure Ones, Forest Kingdom of Ambala as birthplace
HISTORY Before Myzia hatched, her mother, whose name was never revealed, broke up with her mate, Ugon, and flew off to start a new family with another Grass Owl. She is presumed to be a Masked Owl, Grass Owl like Ugon or a Grass Masked Owl.
After that Ugon cared for the egg, trying to spend as much time as possible with it and protect it - his two brothers had been snatched by a St. Aegolius patrol when all three Grass Owls were chicks, and Ugon had been terrified of that organization ever since, and vowed to defend his only offspring against them if he had to die in the process.
After what seemed like decades, the egg hatched and the chick inside turned out to be female - Ugon loved his first child more than he'd loved anything else - his parents and siblings, his former mate without question - they had never liked each other too much.
Ugon tried to spend even less time hunting and patrolling nearby territory and even more with his daughter, which he named but no one ever discovered what that title was.
One afternoon, Ugon was sleeping in the beech hollow with his daughter dozing under his abnormally large wing - both of them were almost as big as a Great Gray's.
The chick woke suddenly and, seeing her father was asleep, crept to the edge of the hollow and peered down, which Ugon, with hs Pure One fears, never let her do.
She saw a vole scuffling in the leaves amongst the roots of the beech tree - and that was just irresistible, despite her Da's warnings.
And she did it. The Grass Masked Owl chick fell from the nest because of leaning too far forward to look at the vole, which scuttled away out of sight as soon as Myzia splashed into a muddy puddle at the base of the tree.
She panicked, not moving from the puddle, and waited for Ugon to wake up and come down and rescue her for hours, daydreaming about it.
Finally, the inevitable occurred. Three shapes powered down from the opposite direction to her beech tree.
At first the young owl thought it was her father and became very excited, until she realized it wasn't, both realizing they were coming from the wrong direction and also that they looked completely different to Ugon and there was three of them.
A Great Gray Owl checked for danger, then swooped down and grabbed the little Tyto in his giant talons and flew back up into the sky. A female, dark brown and white Short-eared flew sleekly up to meet the Gray along with a giant male Snowy Owl, a younger, female version clasped in her talons. The Snowy had a young male in his talons. A Great Horned Owl zoomed up between them, carrying two unhatched eggs.
"A good-sized 'un there, Onteo," the Great Horned male commented to Myzia's holder.
"Wow, Burn. Never said anything like that to me before."
"Ugh, stop chatting," the Short-eared Owl complained. "I can hardly concentrate on holding this dumb chick with your endless talking. Anyone would think you're cousins like those irritating Jatt and Jutt characters. They can't stop babbling on about their "intimidating" looks. Stupid things."
"Oh, would you shut up, Likoi. Owls are allowed to talk, y'know," Onteo, the Great Gray, growled. "Just because you claim Short-eareds like yourself are pretty and deserve everything doesn't mean they do." Likoi looked away and muttered something about Jatt and influence.
The young Grass Masked Owl glanced at the little Snowy. "Who are you?" she asked quietly. "Where are these birds taking us? Why'd they pick me up off the ground and carry me away from my hollow?" The Snowy owl looked at her. "You don't know?" she asked, as if surprised. Onteo's captive shook her head. "They're Pure Ones, from the stone canyons of St. Aegolius's Academy For Orphaned Owls. They call us owlets orphans and moon-blink us there. We're about to be officially classified as orphans by a Boreal Owl called Grimble." The Tyto was shocked. "How do you know all this?" she asked. "See, my mother, Asswia, is the mate of the big Snowy Owl flying with us, Poin, my father. He's a lietenant of St. Aegolius's, and apparently visited four weeks before her eggs - me being one of them - were due, and he said he'd collect them right after birth and deliver them to St. Aggie's, which my Ma agreed with. But we came out much earlier - three days later - and Dad didn't expect that so he wasn't there to collect us right after birth, so we had time - well, at least two of us, there was four - to hatch and grow to this size and level of maturity. That Snowy owlet Likoi's carrying is my brother, and the Great Horned, Burn, is holding my two other siblings, who have not hatched yet."
To be continued...
Character
Edit
NAME: Tessia ('Tess')
GENDER: Female
SPECIES: Barn Owl
FAMILY: Mother: Marella Father: Noctus Brothers: Kludd, Soren Sister: Eglantine Mate: Dojric Daughter: Lila Son: Tucki
APPEARS IN (BOOKS): The Capture, The Journey, The Rescue, The Siege, 'The Shattering, The Burning, The Hatchling, The Outcast, The First Collier, The Coming of Hoole, To Be A King, The Golden Tree, The River of Wind, Exile
APPEARS IN (MOVIES): Legend of the Guardians: The Owls of Ga'Hoole
DEAD (SCROOM) IN: The War of the Ember
SHORT HISTORY: Tessia was born to Noctus and Marella in the Forest Kingdom of Tyto and hatched shortly before Eglantine, which she was born at the same time as.
She is quite smart and knowledgable especially with history and words. Her fave big bro was Kludd.
She was captured by St. Aggies (aka Kludd) along with Eglantine and moon-blinked, but when Kludd gave Eglantine to Allomere as part of the slipgizzle plan, Tessia was kept at St. Aegolius because she had acted more well-behaved from the start to the Pure Ones and Nyra appreciated it deeply, which led to Metal Beak and Kludd doing the same.
When the Guardians attacked St. Aggie's (in the huge battle where Digger and Gylfie and Twilight and Soren came along) Kludd shoved his little, moon-blinked sister into a crack in the rocks and fought.
After the Guardians won, they (aka the Band) recovered Tess from the stones and Soren took her home in his talons, gripping her gently but firmly.
She was treated and snapped out of her moon-blinked state the day after the fighting owls arrived back at the Great Ga'Hoole Tree, and she, a much older owlet than the last time her family saw her in Tyto, was given a tour of the Tree along with a few other owlets the following night, had dinner with her brother and the Band and then discovered ten nooties organized into the shape of the star constellation the Golden Talons in her nest that morning - she was tapped for the Navigation chaw!
Tessia deeply enjoyed the chaw she had been selected for, and became a grand navigator.
Eventually she met an owl called Dojric who was training in the search-and-rescue chaw, and they hung out together and taught each other some tricks from their respective chaws.
Soon, Tessia gave birth to two beautiful white eggs - her family and mate were extremely proud. So where her friends and king and queen, and also Mrs. Plithiver.
They hatched after quite a while, and turned out to be a female chick and a male chick. Dojric and Tessia named them Lila and Tucki, respectively.
Lila was tapped for Navigation like her mother and Tucki entered the Battle chaw.
Tessia rejoined the Navigation chaw after her children were tapped, and after ages and ages, succeeded Gylfie in the position of ryb of the navigation chaw.
She still misses the old days in the fir tree hollow in Tyto - because of Kludd (her parents and two of her silblings lived at the Great Tree like she did, so she had no reason to miss them). She loved Kludd as her brother, but this doesn't break her fierce, devoted loyalty to the owls of the Great Ga'Hoole Tree.
NOTE The book artwork for Tessia wasn't made by me - I got the pic off a website.